Electric Countertop Fryers - Single Tank
Our extensive range of top branded Single Tank Electric Countertop Fryers are designed to make the maximum use of limited kitchen space, whilst providing excellent performance.

LINCAT: LSF, LDF, LFF, DF33, DF36, DF39, DF46, DF49 & DF66/ST.

BUFFALO: CE223, CD274, L370, L484, L490 & L300.

VALENTINE: TT3, TF5, TF7, TF7T, TF10 & TF13.

PARRY: 2000, 1860, PSF3, PSF6 & PSF9.

RED ONE: RO-SF6L & RO-SF8L.

ELECTROLUX PROFESSIONAL: 371079.

BURCO: CTFR01.

FIMAR: FT4.

PANTHEON: PF111.

Click here to see a range of Fryer Baskets.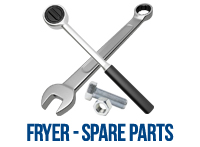 Recently viewed items