Glasswashers
Commercial Glasswashers from Cater-Wash, Hobart Ecomax, Hobart Bar Aid & Hobart.

Our Cater-Wash glasswashing machines have been produced to the highest levels of quality since 1970 using only the most reliable mechanical components available, with no printed circuit boards.

The glasswashers are manufactured from high grade AISI 304, featuring double skinned doors to lower the noise & retain the heat. All Cater-Wash glasswashers feature primary & secondary filtration systems for longer lasting water quality & improved performance, thermal lockout technology, automatic rinse aid & detergent pumps fitted as standard.

Why choose CaterWash

Cater-Wash Customer Testimonies

Hobart Ecomax glasswashers - offering the caterer unbeatable quality & reliability. All Hobart Ecomax glasswashing machines are built with hygiene, efficiency & ease of use in mind. Internal detergent & rinse aid dosing equipment, rinse pumps, air gaps & thermostop rinse control included as standard.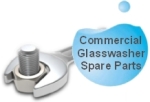 Recently viewed items