Energy Efficient Williams Refrigeration – A Lifelong Investment!
Williams is one of the leading brands in commercial refrigeration. For more then 30 years Williams Refrigeration has earned an enviable reputation for quality,durability, high performance and innovative design.  A philosophy of continuous improvement and an unwavering commitment to quality has kept them at the forefront of the commercial refrigeration sector.
Williams refrigeration meets global commercial requirements and exceeds international ISO 9001-2008 quality standards.
At Cater-Kwik we offer you a wide range of  Williams Commercial Refrigeration including high performance cabinet fridges and freezers, refrigerated counters, blast chillers and freezers, topping units, multi-decks, display chillers and many others.

One of the main factors of Williams success is innovation. The company is driven by new ideas. Today, with global warming and energy costs presenting a major concern, energy consumption is one of the key factors when sourcing new refrigeration equipment. Our fridges and freezers are on 24/7 , they make up a huge portion of the energy bill for your business. Greenlogic is Williams' commitment to supplying the most energy efficient and sustainable commercial refrigeration available  in today's market. It not only focuses on the energy efficiency of the products but also on the impact they make on the environment.
Williams CoolSmart controllers helps to reduce the energy consumption by utilising processes such as  fan and heater pulsing, intelligent defrost and independent management of evaporator and condenser fans.   Williams innovative low energy fans and bumper bars are made from recycled materials, which withstand corrosion and helps to maximise service life.  Williams refrigeration is developed in the 'greenest' way the market can offer now.  Williams models listed on the Energy Technology List (ETL) are eligible for 100% tax relief through the Carbon Trust's Enhanced Capital Allowance (ECA) scheme.
Quite often people tend to stick the budget products, thinking that small investments won't affect them that much. But very commonly lower priced units consume more energy and aren't environmentally friendly.  You will get your  money  back by investing in more expensive quality products, because they are more efficient and energy bills will be very low.  Most of Williams products come with a hydrocarbon option with a very small premium. However, by choosing hydrocarbon (HC) refrigerant you can reduce your energy consumption up to 15% compared to standard refrigerants. Moreover by choosing HC, both noise and heat outputs from condenser are reduced – making your Williams HC units more pleasant to live with.
ETL/ECA The Carbon Trust's Enhanced Capital Allowance scheme (ECA) means businesses can claim 100% first year tax relief by buying energy-efficient products from the Energy Technology List (ETL). So if your business pays corporation tax at 28%, every £1,000 spent on qualifying equipment would reduce its tax bill in the year of purchase by £280. In contrast, for every £1,000 spent, the generally available capital allowance for spending on plant and machinery* would reduce your business' tax bill in the year of purchase by £56. In other words, an ECA can provide a cash flow boost of £224 for every £1,000 spent in the year of purchase.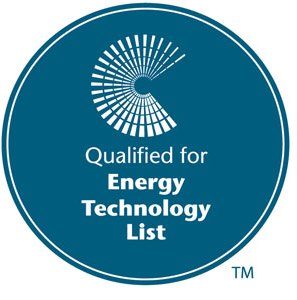 Bellow you can see two energy labels of relatively similar products.  Williams Jade 2 Doors Counter Fridge and Polar GD873 1 Door, 2 Drawers Refrigerated Prep Counter. Jade HJCSA counter has a bigger refrigerator capacity which is 197 litres when Polar GD873 is only 171 litres. Even though, the annual energy consumption of Jade counter fridge is 522kWh per year which is way lower than Polar 737kWh per year. So by buying quality, environmental friendly  products you can reduce your energy costs, save your money and reduce the harmful effects on our environment at the same time. A win win.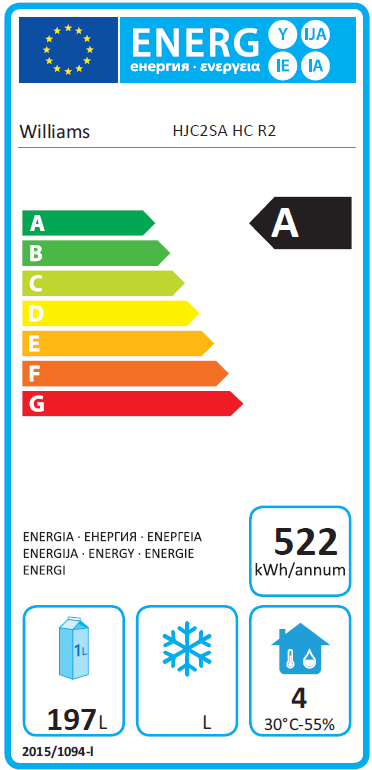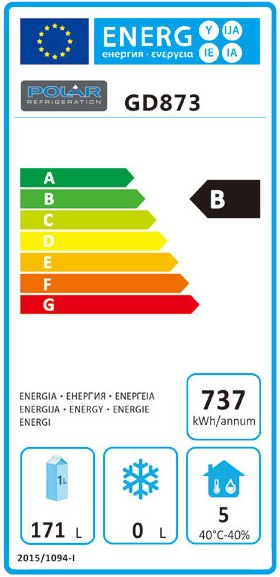 Tags: catering equipment supplier, commercial catering equipment, commercial refrigeration, commercial refrigeration equipment, ha135 fridge, undercounter fridge, undercounter refrigeration, williams catering equipment, williams display fridge, williams double door fridge, williams fridge, williams fridge freezer, williams fridges, williams ha135, williams refrigeration, williams undercounter freezer, williams undercounter fridge, williams upright freezer, williams upright fridge