Commercial Mincers
INTRODUCING…
..the latest additions to the Cater-Prep family.
The CK0555 light duty electric meat grinder & the CK0853A heavy duty mincer 32 meat grinder.
Create delicious minced meat, home made burgers, pates, homemade sausages (with our sausage stuffer attachment) and much more!
In the unlikely event that the amazing value offered by the Cater-Prep machines does not meet your meat grinding requirements then check the full line-up of commercial meat mincers, from light to heavy duty grinders.
Our huge range means we can provide the right meat mincer for every application and establishment-  butchers, restaurants, commercial kitchens, burger parlours & more.
The CK0555 light duty meat mincer features:
Mincer & sausage stuffer attachments
75kg out put per hour.
Reverse function, for tough meat.
High quality stainless steel cooking blade.
Non slip feet.
1 Year Warranty.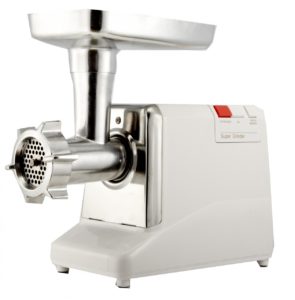 The Mincer 32 is a heavy duty meat grinder designed to grind course meat and unlike just about all similarly priced competitors,  work continuously for 10 hours, making this meat grinder the perfect kitchen work horse.
The Cater-Prep CK0853A features:
330kg out put per hour.
2.8 Litre hopper capacity.
Detachable, reversible head.
Stainless steel finish.
Easy cleaning.
Suitable for continuous operation.
2 years warranty.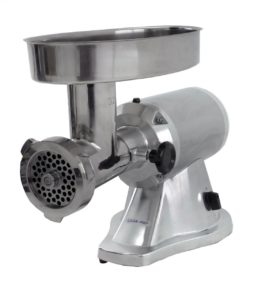 Order now for next day delivery.
Tags: butchers, cater-prep, commercial food mincer, commercial meat mincer, food grinder, meat grinder, meat mincer, meaty meat mincing, mincer 32, Percy Scroggington, sausage stuffer